Amazon Stops Delivery to Neighborhood after Dog Attack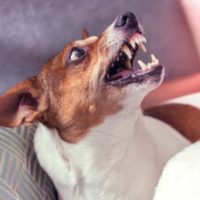 According to Newsweek magazine, Amazon has halted delivery to a neighborhood in Jacksonville, Florida following a dog attack on one of its delivery drivers. The incident occurred as Zelda Fleming was making deliveries on Lourdes South Drive. A woman opened her door to receive the package, and two rottweilers rushed outside to attack the driver.
Fleming sustained injuries on her arms and legs. One bite even ripped about two-inches of skin away from her arm. Fleming needed to go to the emergency room following the attack from treatment but is expected to make a recovery. Disturbingly, a man present during the attack allegedly did nothing to help the driver fight off the dogs, though a different person eventually did.
Amazon requires that people block pets from the delivery area—something that clearly did not happen in this case. The dog owner also did not have signs warning people about the dogs. Rottweilers are big dogs that frequently are used for protection, so there should have been signs. Fleming also mentioned that the owner could have waited for her to complete the delivery before opening the door and setting the dogs free. Amazon sensibly has halted all deliveries to the neighborhood for an indefinite amount of time.
The incident is a timely reminder that dog bite attacks are serious accidents, and injured victims should pursue all avenues of compensation.
Dog Bite Liability
The injured Amazon delivery driver should have a legal cause of action against the dog owner under Fla. Stat. § 767.04. This statute imposes strict liability when a dog bites a person in public or on private property when the victim lawfully had a right to be there. A driver delivering a package clearly has a right to be on the property, because they have been invited to make the delivery when the dog owner placed the order.
Interestingly, Florida does not require that there be proof that the dog has previously bitten someone or been vicious to receive compensation. It is enough that the dog attacks a person where they have a lawful right to be. This means that this could be the first time that the Rottweilers attacked someone, and the Amazon driver could still bring a lawsuit.
Dog Bite Injuries on the Job
Someone bitten while performing a job could probably also claim workers' compensation benefits. The workers' comp system is less generous than bringing a lawsuit because a victim cannot receive full compensation for lost wages or any money for pain and suffering.
Nevertheless, if the dog owner has few assets and no homeowners' insurance, then a workers' compensation claim could provide at least some financial relief. An injured worker can receive necessary medical care and a portion of their lost wages for a permanent or temporary disability.
Contact Us after a Dog Attack
Earnhart Law has provided legal representation to Delray Beach for over 30 years. Our compassionate advocacy always places victims first.
If you would like to discuss your options, contact a Delray Beach dog bite lawyer at 561-265-2220.
Resource:
newsweek.com/amazon-cuts-off-deliveries-florida-neighborhood-after-driver-mauled-dogs-1519893
https://www.delrayinjuryattorneys.com/are-dog-bite-fatalities-rare/