Accident Dangers And Florida Distracted Drivers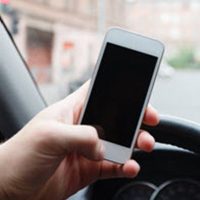 Throughout the US, and in Florida, distracted driving accidents have been on the rise. In a recent year, it was reported approximately 40,000 people were injured on Florida roads in accidents involving distracted driving. While mobile devices and texting are to blame in some cases, there are a range of distractions that can lead to collisions, including changing the radio station, reaching for an object, or fiddling with a drink or food.
To drive as safely as possible, you need to keep your focus on driving. There are manual distractions, such as trying to grasp an object, and cognitive distractions, like obsessing over a work meeting instead of paying attention to signs and signals. To determine if your injury was a result of a cognitive, manual, or visual distraction, have a Delray Beach personal injury attorney investigate your case.
Mobile Device Habits and Other Risks
People use their phones throughout their days to manage an array of responsibilities, from personal commitments to professional communications. Often, drivers are so accustomed to interacting with their phones whenever there is an alert or a chime that they forget there are times when it is best to let their phone rest, such as when they are actively driving an automobile.
While many rely heavily on hands-free technology, which can be helpful, they need to remember they can still be cognitively distracted. Letting messages wait is the best way to keep yourself and others safe when behind the wheel on Florida roadways.
Accident risks increase in all of the following situations:
Drivers reaching for an object in the vehicle.
Adjusting controls or changing radio stations.
Dialing on a cell phone or texting.
Interacting with a touch screen.
When you think of each of these accident risks, it is clear that taking your focus off of the road and driving tasks, even for a very short period of time, is dangerous. Yet people fall into bad habits and fail to understand the heavy consequences that are possible when a person drives while distracted.
Meet with a FL Personal Injury Lawyer Today
After an accident injury, whether you or someone you love sustained harm, personal injury compensation could be possible. When another behaves recklessly,  you should not have to pay for medical bills and other expenses out of your own pocket. You deserve fair compensation and  a Delray Beach personal injury attorney has the skills to access the financial package you need to access high-quality care.
Were you hurt in an accident involving a distracted driver? Don't let financial worries take your mind off of your healing process. To have a professional working on financial recovery, talk to the knowledgeable attorneys at Earnhart Law in Delray Beach. Our experienced Florida lawyers have achieved successful results in a wide range of cases, including accident cases with distracted drivers. Because our attorneys have been handling personal injury cases for over 30 years, we understand what amount would be a full and fair settlement. Call 561-265-2220 or contact us online to get started.