Defective Strollers & Tricycles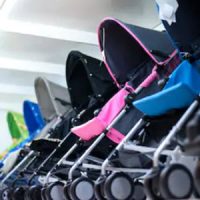 Two recent recalls highlight how defective products can endanger young children. Parents should always be on guard when a product fails to operate as planned and injures their little ones as a result. Children have legal rights, too, though it is ultimately up to parents to pick up the phone and call a Delray Beach personal injury attorney for help obtaining compensation.
Hinge Joints Create Fall Hazard
Baby Trend has recalled its Tango Mini Strollers because the two hinge joints could release when put under pressure. This poses a fall hazard to the child. Baby Trend issued its recall on January 16, 2020 for about 2,000 units that had been sold through Amazon and at Target. The strollers were manufactured in China, and consumers are encouraged to contact Baby Trend to receive either a replacement or a full refund.
Other strollers are defective for different reasons. For example, they could have wheel defects that cause the wheels to come off, or faulty brakes that make it hard to stop a stroller. Many people like to jog while pushing a stroller, so they can build up quite a head of speed. Other defects involve the handlebar or poor materials which could cause a child to fall out of the stroller onto the sidewalk.
Tricycles Recalled Due to Lead Paint
On January 9, 2020, Thesaurus Global Marketing recalled its Little Bambino 4 in 1 canopy children's tricycles because the canopy's frame had levels of lead in the paint in excess of federal limits. Other tricycle components also contained toxic amounts of lead. When children ingest lead, they can suffer serious health effects, including developmental issues, so this recall was well deserved.
However, lead paint is a relatively rare reason to have a recall of a tricycle in 2020, since most manufacturers avoid paint with lead. Instead, many tricycles are defective for other reasons, such as axle problems that can cause the wheels to separate or handlebar problems that impede a child's ability to control the tricycle.
Don't Throw Away Defective Products after an Accident
If your child was injured in a stroller or while riding a tricycle, obtaining necessary medical treatment is obviously a parent's first priority. However, it is important to hold onto the tricycle or stroller. An attorney will want to inspect it to determine whether a defect in design or manufacture caused it to malfunction.
Sometimes, products become dangerous because they lack critical safety instructions or warnings. For this reason, hold onto all packaging that came with the product. This includes paper inserts, instructions, and the box itself. Your attorney can review whether these defects made a product unreasonably dangerous for consumers.
Call Earnhart Law Today
Every year, countless defective products enter the stream of commerce. Some are never recalled or recalled only after innocent people are injured in accidents.
If you believe a defective product has injured your child, the lawyers at Earnhart Law can help. We have more than three decades of experience, which we can put to work for you if you call 561-265-2220.
Resource:
cpsc.gov/Recalls/2020/Baby-Trend-Recalls-Tango-Mini-Strollers-Due-to-Fall-Hazard
https://www.delrayinjuryattorneys.com/what-is-the-pain-and-suffering-multiplier/