Who Is Liable For A Car Accident Caused By A Defect?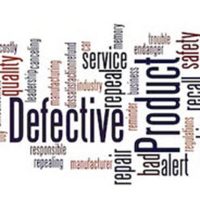 Car accidents can be caused in many different ways, with most being caused by the acts or omissions of drivers behind the wheel. However, in some cases car accidents are caused by a defect in the vehicle, and not because of the vehicle operator. When accident injuries are caused by a vehicle defect, who is liable for the damages that result? At Earnhart Law, our team of dedicated Delray Beach personal injury attorneys are prepared to help you get the compensation you deserve after an accident. To learn more about who may be responsible for your injuries after an accident caused by defect in the Delray Beach area, call or contact our office today to schedule a free consultation.
Designers and Manufacturers
When a defect occurs in the inception of a vehicle part, it is called a design defect. The designer of that part can be held liable for any accidents that result. If the design is sound but mistakes occur in its creation at the factory, it is known as a manufacturing defect. The manufacturers of these defective parts can be held liable for any injuries caused by their faulty products.
Transportation Specialists
In other cases of accidents caused by defects, the vehicle parts are created correctly in their design and manufacture; however, negligent shipping of the parts or the vehicle by transportation companies results in damaged equipment that can ultimately cause the accident. When it can be proven that the vehicle was rendered defective because of shipping errors, the transportation company may be held liable for injuries.
Vehicle Dealerships
In other cases, a vehicle is sound when it is sold to a dealership. Some dealerships make alterations to vehicles in order to make them more appealing for resale, and when these changes are made they can damage important elements of the vehicle by mistake. If an accident occurs as a result of alterations made by a vehicle dealership, it can be held liable for any injuries that result.
Mechanics and Auto Parts Stores
Finally, mechanics and auto parts stores may be held liable for accidents caused by a vehicle defect. If a car is brought into a mechanic who fails to fix a broken part correctly or negligently misses an obvious defect in the vehicle they may be held liable for an accident. The same applies to auto parts stores if they supply a part for a vehicle that is defective. While these defects sometimes occur during the design, manufacture, or transport, retailers can also be held liable if it can be shown that the parts were stored in such a negligent manner that they became defective before being sold.
Call or Contact Our Office Now
Have you or a loved one been injured in a defective vehicle accident in the Delray Beach area? If so, the experienced personal injury attorneys at Earnhart Law are here to help. Call the office or contact us today to schedule a free evaluation of your injury claims now.