The High Cost of Work-Related Back Pain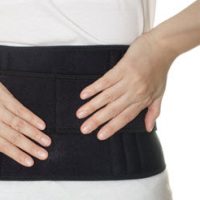 What person over 40 hasn't woken up with a little back pain now and again? A couple aspirin or ibuprofen might be all you need for relief so you can head off to work. But what happens if the back pain becomes chronic? Back pain can cost workplaces a considerable amount of money. Indeed, it is one of the leading expenses.
Calculating the Costs
According to one study, the average cost of a back injury was $40,000-80,000 per employee. This amount calculated the cost to the employer and to the employee, and it included the following:
Medical care to treat the back pain.
Lost work. About 26 million people missed an average of 7 days of work because of back pain. Back pain is the second leading cause of missed work.
Reduced productivity. Even if a worker shows up to the job, they might get less work done.
In total, indirect costs like lost productivity were nearly twice those of direct costs, such as medical care and workers' compensation benefits. All combined, direct and indirect costs exceeded $100 billion a year in the United States—a staggering sum.
Individual workers might not have to pay as much for care, however. According to another study, the average amount of medical care for someone with back pain was a little over $6,000 a year. However, this amount does not include workers' compensation benefits for lost wages or increased workers' compensation premiums for employers.
Minimizing the Risk of Back Pain
The number one cause of workplace injuries is overexertion. Unfortunately, it can be difficult to reduce your effort at work without angering your employer. Nevertheless, you should consider safer ways to perform tasks at work, such as taking longer breaks or learning how to lift objects properly so that you do not stress your back. If you have a sedentary job,  learn how to sit properly with correct posture. This will reduce the stress on your back.
You can also reduce the likelihood of back injury by improving your overall health. Shed any excess pounds by adopting a diet and exercise plan, and give up unhealthy habits like smoking.
Many people benefit from exercises that improve the strength of their core and their back. You can also learn how to stretch muscles so that they are limber. Exercise and stretching also help reduce stress, which increases overall health.
Treating Back Pain
Your treatment will depend on the severity of the pain and whether anything else—like a broken rib or damaged vertebrae—contributes to it. Most doctors will prescribe the following:
Bed rest
Painkillers
Steroid injections
Chiropractic care
Physical therapy
Some doctors also advise having surgery to fuse vertebrae together, which will reduce their motion and their ability to generate pain. However, you should think carefully before undergoing surgery, since spinal fusion is often unnecessary.
Contact a Delray Beach Workplace Injury Lawyer
If you have been injured at work, you can file a workers' compensation claim. However, you might also have a viable lawsuit against a third party, such as a vendor or customer. You should pursue all avenues that increase your ability to cover medical bills and replace lost wages. For a free consultation, please call Earnhart Law today.
Resources:
spine.osu.edu/blog/2014/08/addressing-high-corporate-costs-back-pain-and-other-msds
spine.osu.edu/blog/2014/09/indirect-costs-back-pain-and-msds