Electrocution Injuries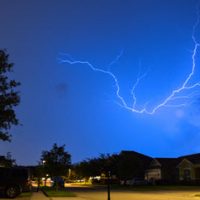 In the United States, thousands of people are seriously injured or killed by electricity. Almost anybody can be electrocuted, either at work or at home. If you have been injured, you should contact an experienced Delray Beach personal injury lawyer as soon as possible to discuss whether you can obtain compensation for your injuries.
Common Causes of Electrocution
Although young children might be electrocuted when they stick a knife into a light socket, adults tend to be injured because of the disruption of a controlled flow of electricity. Among the leading causes of electrocution are the following:
Aluminum ladder touches power source. This type of accident can happen on the job or at home.
Appliance failure. Defective appliances can easily lead to an electrocution. Often, the defect is in the design of the appliance or in how the particular unit was manufactured.
Exposed wires. Anyone could accidentally be electrocuted if they touch an exposed wire.
Fallen power lines. Extreme weather or road accidents can cause power lines to tumble, leading to electrocution.
Being struck by lightning kills about 33 people a year. Because water conducts electricity, swimming in a pond or pool during a lightning storm is dangerous.
However you were injured, the key is to determine who is to blame. For example, a business that has exposed wires has not exercised proper care to protect its customers from injury. If a power tool or appliance is defective, then the manufacturer and others could be held responsible.
Electrocution Injuries
The electrical current can cause serious injuries, such as:
Internal and external burns
Nerve damage
Heart injury
Seizures
Impaired memory
Loss of coordination
Post-traumatic stress disorder
Sometimes, you might not be 100% certain you have been electrocuted, so look for the following symptoms:
Chest pain
Irregular heart beat
Burns
Broken bones
If you think you have been injured, go to the emergency room immediately. Prompt treatment is necessary to minimize the damage as much as possible.
How to Treat an Electrical Burn
One common injury is a burn, usually at the site of the electrocution. Burns can be minor or serious, depending on the strength of the electrical current you confronted. You can treat your burn by doing the following:
Do not move someone who has been electrocuted. Instead, call emergency services.
If the person was electrocuted by a high voltage wire, then call 9-1-1.
If the external burn was minor, you can treat it like other minor burns. Carefully wash the burn in warm water and then apply a sterile bandage.
If a person suffers from difficult breathing, confusion, muscle pain, or passes out, then get to the emergency room as soon as possible.

Speak to a Delray Beach Personal Injury Lawyer about Your Electrical Injuries
At Earnhart Law in Delray Beach, we help injured victims receive compensation after a devastating injury, including electrocution injuries. If you were injured on someone's property or on the job, you might have a valid legal claim for compensation.
To learn more about your options, please call 561-265-2220 to schedule a free, no-risk consultation.
Resource:
weather.com/storms/severe/news/united-states-lightning-deaths-2015